Latest News
Erik Lindgren with the Bespoke Consort ~ In Concert
The Bespoke Consort featuring pianist/composer Erik Lindgren and his lively quartet featuring members of Goli will be in concert to celebrate the 150th Anniversary of the First Evangelical Lutheran Church on Sunday, November 6 at 3 PM. Admission is free (donations accepted).
The ensemble will present an invigorating evening of crossover chamber music sans boundaries including quirky musical novelties, impressionistic tone poems, original tangos, neo-Baroque escapades, Alberto Ginastera's "Estancia" ballet suite, plus rollicking arrangements of Erik Satie, Leroy Anderson and Raymond Scott chestnuts. A pleasant and uplifting time is guaranteed for all!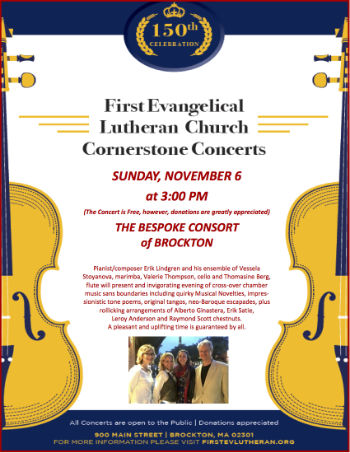 View full size.
Sunday, November 6, 2016 ~ 3 PM
Free Admission ~ donations accepted
First Evangelical Lutheran Church
900 Main Street, Brockton, MA 02301
Telephone: 508-586-9021
[www.firstevlutheran.org] [add to calendar] [map]
Thomasine Berg ~ flute
Vessela Stoyanova ~ marimba
Valerie Thompson ~ cello
Erik Lindgren ~ piano
"Erik Lindgren scores consummate musicianship from the spatially abstract to a defining American vernacular. Erik Lindgren IS American music" — Van Dyke Parks
"Erik Lindgren is a model of musical schizophrenia—the type who'll play Stravinsky and Louie Louie, back-to-back, with one foot in the conservatory and the other in the garage." — Brett Milano, The Boston Globe
About This Site
This site contains a complete catalog of musical compositions, productions, and arrangements by Erik Lindgren. In addition, there is an extensive discography of commercially released recordings along with mention (in the detail section) of unreleased recordings that exist.
There is also a biography, resume, a press archive, a section for current news, plus a photo gallery which contains pictures that can be downloaded.
CDs can be purchased on this site through PayPal, or orders can be sent by mail with any form of payment in US dollars.
Erik Lindgren is available for lectures and workshops. Inquiries are encouraged.